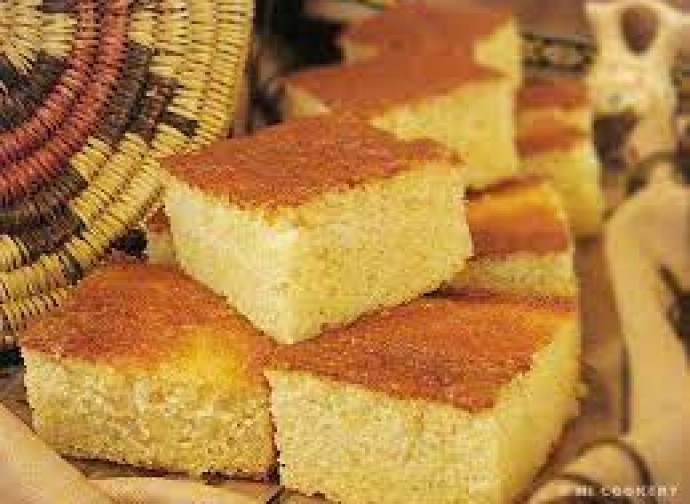 The Mohawk tribe, of which Kateri Tekakwitha was a native, has a very rich and varied cuisine. The most common ingredient is maize, which they cultivated and which was also brought to Europe in the 16th century. They are also famous for a variety of this cereal, white maize.
Their maize soup has become an American dish in its own right, as have their corn loaves.
I chose this cornmeal cake because it is delicious and easy to make. It's often given as a snack to children, but also to welcome a new neighbour or as a contribution to parish parties: it is convenient because it is eaten cold and can therefore be prepared the day before.
Ingredients (serves 8):
1 cup milk
½ cup butter
2 cups white sugar
4 eggs
2 tablespoons baking powder
2 cups fine ground cornflour
1 teaspoon vanilla extract
Preparation
Preheat the oven to 165° C. Grease and dust with flour a rectangular baking tin. Mix the cornflour and baking powder together. Set aside.
In a small saucepan, heat the milk and butter until the butter has melted. Remove from heat and set aside.
In a large bowl, whisk together the sugar and eggs. Incorporate the vanilla. Add the flour mixture and the milk and butter previously set aside. Mix thoroughly and pour the mixture into the mould. Bake in the preheated oven for 45-50 minutes, or until a toothpick inserted into the centre of the cake comes out clean. Cool for 10 minutes in the pan, then turn out onto a wire rack and leave to cool completely. Cut into squares and serve.
(Liana Marabini)