THE RECIPE
Kniakiachl
Culture
06_02_2021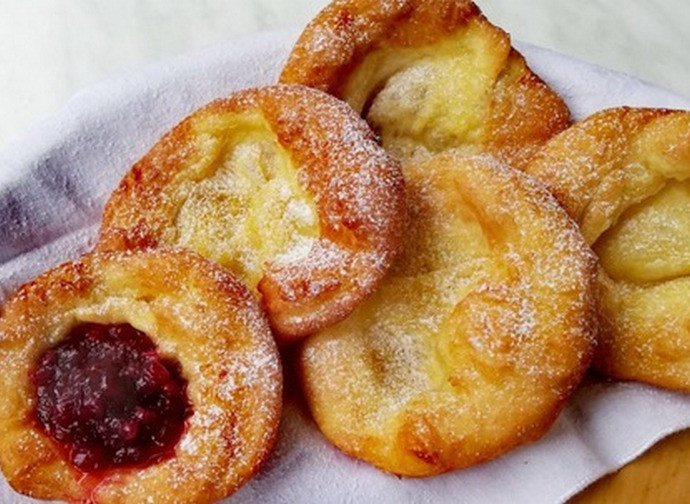 KNIAKIACHL
Ingredients
For the dough
500 g white flour
230 ml milk
3 egg yolks
25 g yeast
1 teaspoon sugar
70 g soft butter
Lemon zest to taste
2 cl rum
Oil for frying
For the garnish
Icing sugar
Cranberry jam
Prepare the dough the night before and let it rest overnight.
Dissolve the yeast in the milk. Add all the other ingredients and knead until the dough is soft and smooth. Place the dough in a bowl, cover it and let it rest until the following day.
Remove the dough from the bowl and form a roll. Divide into about 12 pieces and form into balls. (If you want to prepare the dough in advance, the uncooked dough balls keep very well in the freezer). Cover and leave to rest for about an hour.
Heat the oil in a frying pan. Work each ball with two hands and create a hollow in the centre (resulting in a thickening of the edges). Dip the cakes in the oil and fry them on both sides, making sure to wet the top with the fat using a ladle so that the dough swells. Drain on absorbent paper.
Sprinkle with icing sugar and serve with cranberry jam.
Tip
Kniakiachl are delicious when eaten freshly fried.
(Liana Marabini)
---
---