THE RECIPE
Casoncelli
This is a very old recipe, typical of Bergamo and Brescia.
Culture
18_09_2021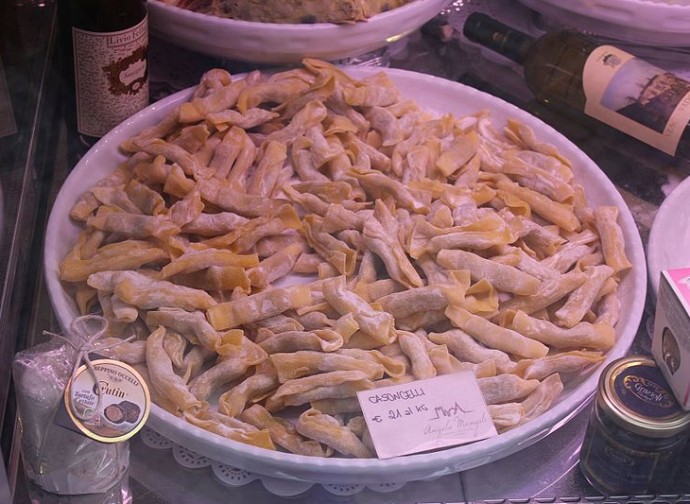 This is a very old recipe, typical of Bergamo and Brescia.
Ingredients (serves 4):
Dough
400g flour
200g wheat flour
2 eggs
Water
Filling
125g breadcrumbs
One egg
125g Grana Padano cheese
150g sausage meat
100g cooked beef
5g macaroons
10g of sultanas
1 pear, peeled and cut into pieces
Nutmeg
Cinnamon
Pepper
Lemon peel
Parsley
Garlic
Garnish
A little butter
A few sage leaves
Black pepper
Preparation
Mix the flour, eggs and a pinch of salt with enough water to obtain a smooth dough. Leave it to rest for 30 minutes.
Meanwhile, melt a piece of butter in a saucepan with the sausage meat, pear and beef. Add the chopped parsley and chopped garlic.
Put the meat preparation in a bowl and add the cheese, breadcrumbs, chopped macaroons, eggs, sultanas and a pinch of salt and pepper. Mix well.
Roll out the dough and cut it in two lengthways (to obtain two strips 8/10 cm wide).
Place a spoonful of filling at intervals of a few centimetres along the first piece of dough. Use the second length to cover the filling and cut out crescent-shaped discs. Gently press each disc in the centre with your finger.
Cook the casoncelli in boiling salted water, drain and sprinkle with grated cheese. Season with a little melted butter, chopped fresh sage, diced bacon and freshly ground black pepper.
---
---