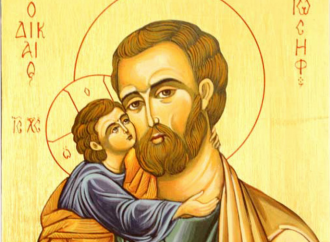 REDEMPTORIS CUSTOS / 8
In dealing with the Body and Blood of Jesus truly present in the Eucharistic species, the priest must imitate the sentiments of piety and adoration that St Joseph had in nourishing and raising his divine Son during the long years of His hidden life. And the example of Mary's virginal spouse also points to perfect chastity as an ontological dimension of the priesthood.
---
HISTORY AND LITURGY/2
The practice of receiving communion in the hand, which was "neutral" in the Patristic age, was adopted by the Protestant reformers with a clear doctrinal connotation. According to Martin Bucer, who promoted the Anglican "reform" in the 16th century, the practice of not giving communion on the hand is owed to a Protestant rejection of two Catholic "superstitions" – the "false honor" that is claimed to be attributed to this Sacrament and the "perverse belief" that the hands of the ministers are more holy than the hands of the laity as a result of the anointing they receive in the rite of ordination. From this moment on, the act of receiving Communion on the hand has a markedly polemical significance which attacks the Real Presence and the priesthood.
---