THE RECIPE
Sea bream with dill and pink peppercorns
Culture
08_05_2021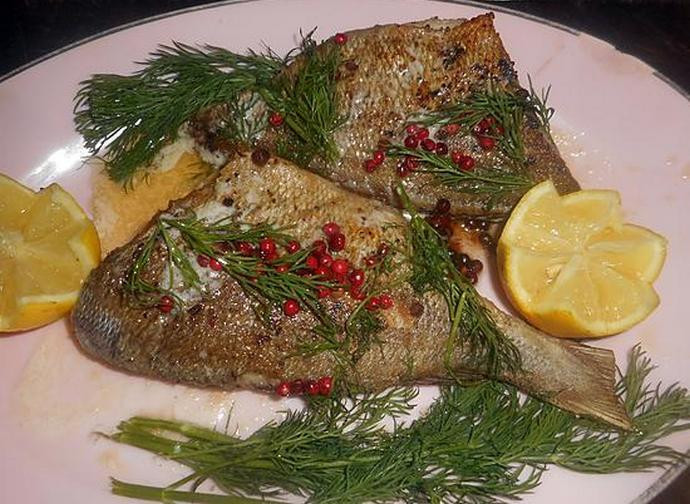 SEA BRAM WITH DILL AND PINK PEPPERCORNS
Here is a dish from Tertullian's time. An arbiter of healthy cooking, he loved fish and herbs: this ancient dish would certainly be to his taste.
Ingredients (serves 2):
2 grey sea bream weighing about 220g each
One lemon cut in half
A bunch of dill
2 teaspoons of pink peppercorns
Olive oil
50g butter
3 tablespoons flour
Salt
Pepper
Preparation:
Wash, scale and gut the sea bream (better still: have the fishmonger do this operation).
Clean the dill.
Salt and pepper the inside of the fish, and insert a sprig of dill into each one.
Flour the fish, shaking them gently to remove excess flour. Place a frying pan with 3 tablespoons of olive oil over high heat. Lower the heat to medium, brown and cook the sea bream on both sides.
When they are browned, remove them from the pan, discard the cooking oil.
In the same pan, melt the butter and put the fish back in to season for half a minute. Add the pink peppercorns and sprigs of dill.
Serve the sea bream hot and garnish with fresh dill and half a lemon.
---
---