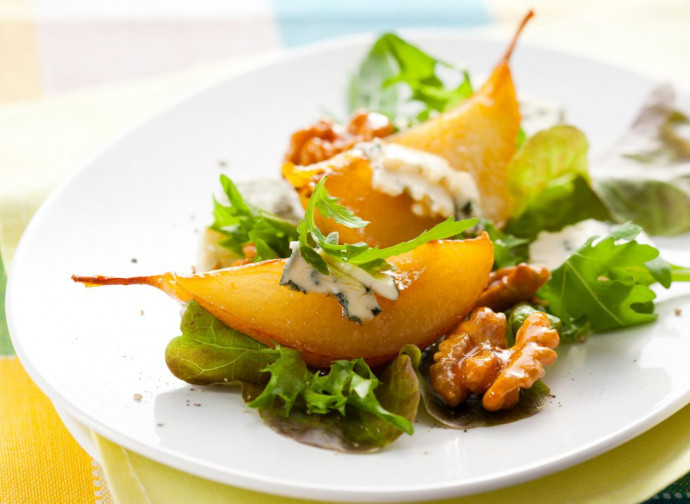 ROASTED PEAR SALAD WITH HONEY AND GORGONZOLA
Ingredients (serves 4)
Mixed salad leaves (red, valerian, lettuce, rocket)
2 large Abate pears
100g gorgonzola
4 tablespoons acacia honey
4 tablespoons milk
8 walnut kernels
2 tablespoons olive oil + 1 tablespoon to brush pears
Salt
Wash the pears well. Cut into quarters lengthwise and remove the core. Leave the peel. Brush the pears with olive oil.
Heat a non-stick frying pan and cook the pears, two minutes each side.
In the meantime, dilute 2 tablespoons of honey in the milk.
Crush the gorgonzola cheese with a fork and mix it with the mixture of milk and honey.
Arrange the salad leaves on plates, season only with salt and olive oil.
Put a teaspoonful of cheese in the hollow of each pear quarter.
Place two quarters of pear on each plate on the salad leaves.
Pour a drizzle of honey on top and decorate with walnut kernels.
It makes an excellent starter.