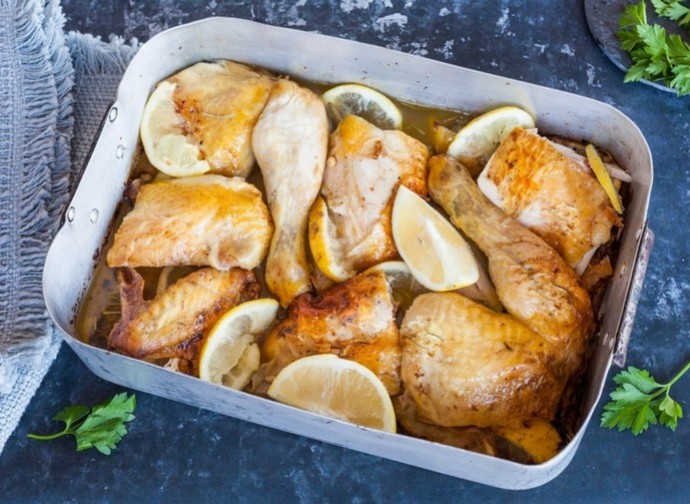 LEMON CHICKEN
This is the recipe that Joseph of Cupertino used to prepare as a child. Very easy to make, it is a healthy and tasty second course.
Ingredients (serves 4):
1 chicken weighing about 1.2 kg
2 lemons + 1 lemon for the garnish
40g butter
6 garlic cloves
A few sprigs of thyme
Oil
Salt
Black pepper
Preparation
First of all remove the chicken from the fridge at least one hour before preparing it (this is a rule for all meats: never cook from the fridge).
Rub the outside of the chicken with half a lemon; stuff the cavity with half a peeled lemon, half the butter, and the garlic cloves. Heat two tablespoons of oil in a pan with the remaining butter, place the chicken on top, season with salt and pepper, transfer the pan to a hot oven at 180° and roast for 1 hour and 15 minutes.
Halfway through cooking, sprinkle with the freshly squeezed juice of the remaining lemon and a half.
When cooked, remove the chicken from the oven and transfer it to a chopping board. With a pair of kitchen shears, cut the back and breast into four pieces, remove the wings and thighs and arrange them all in the roasting pan, or on a serving plate.
Sprinkle with finely chopped thyme and serve the roast lemon chicken immediately, garnished with lemon slices and accompanied, if so desired, by fried or roast potatoes.
(Liana Marabini)