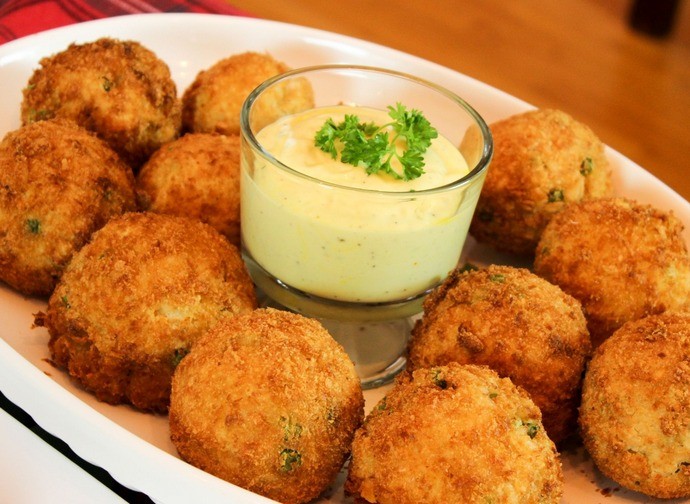 ESICIA (lobster rissoles)
Ingredients (serves 2):
1 lobster tail, cleaned and coarsely minced
1 onion, finely chopped
2 cloves of garlic, crushed and mashed
1 bunch of parsley, chopped
1 slice of bread soaked in milk and squeezed
1 cup breadcrumbs
2 eggs
1 cup flour
1 cup olive oil for frying
Salt and black pepper
Accompanying sauce
1 cup mayonnaise
A few sprigs of dill or parsley
The juice of half a lemon
Preparation
Prepare the accompanying sauce: mix the mayonnaise with the lemon juice and the dill. Put it in the fridge until it is time to serve the rissoles.
Cook the onion and garlic in two tablespoons of olive oil. Add the minced lobster and cook for one minute. Remove from the heat and leave to cool.
Beat one of the eggs and add it to the mixture. Add the chopped parsley, salt and pepper. Mix well. Add 4 tablespoons of flour and stir. If the mixture is too soft, add a little more flour.
Form round balls, dip them in the remaining flour, the remaining egg, and then in breadcrumbs.
Fry them in hot oil for two minutes or until golden brown. Place them on a sheet of absorbent paper.
Serve the rissoles hot with the cold sauce.
They can be served as an aperitif on wooden skewers or as a dish accompanied by a green salad.
Other boiled fish (salmon, sea bass, cod) or prawns can also be used for this recipe.