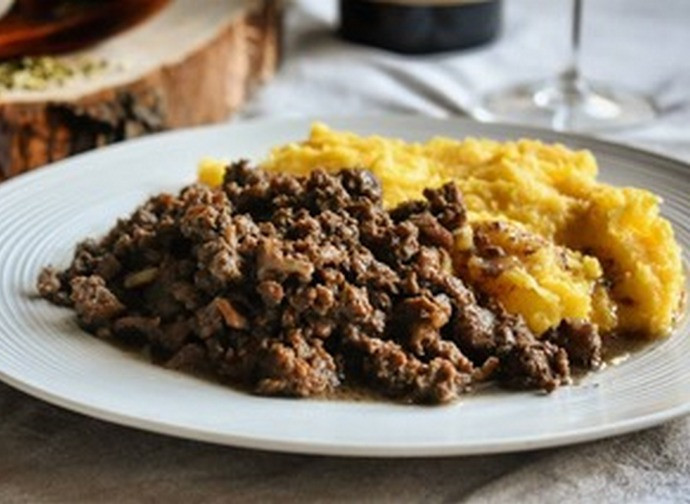 BRÜSCITT
This is a gastronomic tribute to Caravaggio: a Lombard dish that is little known outside the region. It has poor, peasant origins, and was made with scraps of meat, which the butchers sold off at the end of the day ("bruscitt" means "crumbs" in dialect). Of course, today it is made with 'normal' pieces of beef.
I consider it a 'convenience' dish because it can be cooked beforehand and reheated at the time of consumption. It is also very convivial: if you have guests over, it can be brought to the table in a serving dish, accompanied by hot polenta, and everyone helps themselves as they please.
It is typical of Busto Arsizio, in the province of Varese. It is an excellent winter dish.
Ingredients (serves 6):
1kg stewing beef
60g butter
3 glasses of red wine
50g bacon slices
10 fennel seeds
For the polenta
500g cornflour
2 cloves of garlic
Salt
Pepper
Preparation:
Chop the meat into very small pieces.
Put the butter, the chopped bacon and the fennel seeds in a gauze bag in a saucepan (earthenware would be ideal), which you will remove at the end.
Place on the heat and add the meat, season with salt, stir and cook covered for two or three hours. While cooking, add half a glass of wine a little at a time. The sauce should be neither too thick nor too liquid.
Prepare the polenta an hour before serving by putting two cloves of garlic into the salted water (remove them before pouring in the flour). The polenta should be quite compact.
Serve the brüscitt hot with the polenta.
(Liana Marabini)