THE RECIPE
Asparagus Flemish-style
Culture
03_01_2022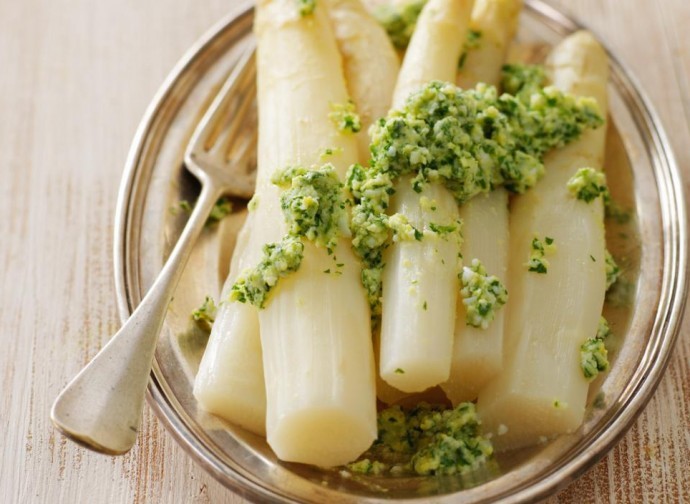 ASPARAGUS FLEMISH-STYLE
I have chosen this dish, much loved in Bruges, the city mentioned in the article, even though it is not asparagus season: but it is light and cleansing, excellent after Christmas excesses.
Asparagus in Flanders, particularly white asparagus, was cultivated as early as the 17th century. In Italy, too, there are areas known for cultivating famous varieties of asparagus, such as Bassano del Grappa, Verona, Albenga and in the Langhe in Piedmont.
The preparation of asparagus Flemish style is a recipe of extreme simplicity, the combination of asparagus and eggs is a traditional combination; usually seasoned with oil, in this case it will be butter with notes of nutmeg that will envelop the ingredients.
Ingredients (serves 4)
500g asparagus
40g butter
Half a bunch of finely chopped parsley
2 large eggs
Nutmeg
Salt and black pepper
Preparation
Cut off the woody part of the asparagus, wash them and bring them to the boil in a tall saucepan with plenty of salted water. Cook them for 10 minutes with the lid on, standing them upright and with the tips out of the water. Drain them and run them under cold water.
Boil the eggs for about 8 minutes, then place them in cold water to facilitate shelling them; mash them with a fork and add a little of the chopped parsley, salt and pepper. Melt the butter in a small pan. Arrange the asparagus on a serving dish, dress them with half of the melted butter, distribute the chopped eggs on top and then the rest of the butter; to finish, a nice dusting of nutmeg.
(Liana Marabini)
---
---