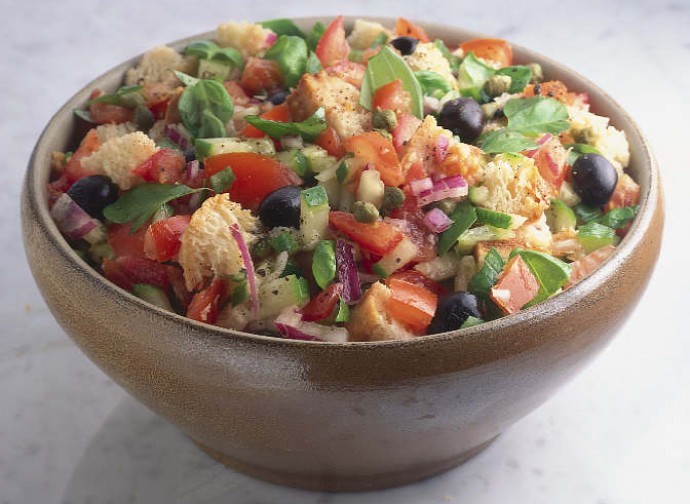 VITERBO-STYLE PANZANELLA
Until the 17th century this recipe was made without tomatoes. This is the present-day recipe.
Ingredients (serves 4):
400g stale bread
2 tomatoes
1 cucumber
1 onion
Basil leaves
Extra virgin olive oil to taste
Salt
Freshly ground black pepper
3 tablespoons vinegar
Preparation
Peel and slice the onion very thinly, then soak it in a bowl with water and a tablespoon of vinegar for about 2 hours. Peel the cucumber using a potato peeler and slice it thinly, then set it aside.
Wash the tomatoes, cut them into small pieces and set them aside. Remove the crust from the bread with a knife and moisten each slice with water and vinegar without getting them too wet. When the bread is softened, break it up roughly and put it in a salad bowl.
Drain the onion from its water and add it to the bread. Add the tomatoes, cucumber and chopped basil leaves. Gently mix all the ingredients together and season with salt, pepper and extra virgin olive oil to taste. Mix again and, if necessary, add more vinegar.
Leave the panzanella in the fridge for at least an hour to allow the flavour to develop. Serve cool.
(Liana Marabini)