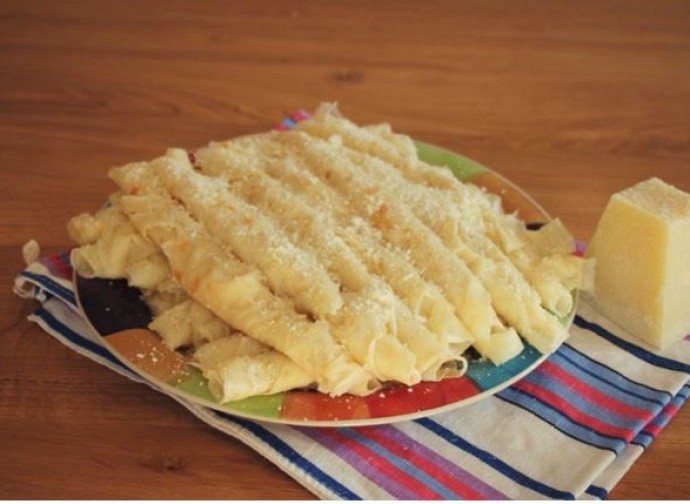 This is a medieval dish, which was eaten at the time of Saint Francis and which is very practical because it can be prepared in advance. Normally, bertolacce are eaten cold, but they can also be heated up.
Ingredients (serves 6):
500g flour
2 eggs
A pinch of salt
1 litre water (approx.)
For seasoning
Plenty of grated pecorino cheese
Preparation
Place the flour, eggs, and salt in a bowl and start mixing with your hands, adding a little water at a time until you get a smooth batter. To obtain an excellent result, the batter should be beaten by hand until no more lumps are visible. (If you don't want to hand mix, you can also use an electric whisk).
Cover the dough with cling film and leave it to rest for about 2 hours.
Then add more water until it reaches a fairly thick liquid consistency (like pancakes).
Heat a tablespoon of oil in a non-stick pancake pan, remove excess oil and set aside to grease the pan later.
Pour in a small ladle of batter and try to cover the whole surface well. Take care: they must be very thin.
Cook the bertolacce for a few moments, then turn them over and cook for a few moments on the other side.
Place the "bertolacce" on a flat plate, once the dough is finished (this quantity makes a lot, more or less fifty); season with plenty of pecorino cheese and roll them up.
Stack the bertolacce on a serving dish and keep them in the fridge until serving.
They can be used as a single dish or as an appetizer.