THE RECIPE
Terni-style ciriole
Culture
13_02_2021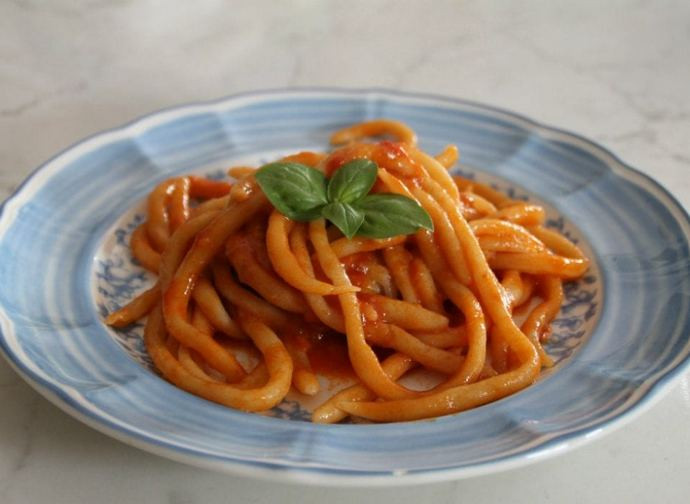 TERNI-STYLE CIRIOLE
Ciriole are a type of pasta obtained simply from the mixture of flour and water and then worked by hand to obtain what look like thin little snakes. In other parts of Umbria they are called 'strangozzi', and in Tuscany 'pici'. They can be dressed in various ways (with aubergines, ricotta cheese, anchovies, sausage, etc.), but the typical recipe from Terni uses a tasty, simple tomato sauce, which is also excellent for vegetarians. Here it is.
Ingredients: (serves 6):
For the pasta
500 g flour
Water as required
For the sauce
1 onion
1 celery stalk
1 carrot
1 clove of garlic
500 g chopped tomatoes (fresh or tinned)
1 hot chilli pepper, chopped
4 tbsp olive oil
A few sprigs of fresh basil
Salt
Pepper
To prepare the sauce
Finely chop the celery, carrot, onion, fresh chilli pepper and garlic. Transfer the chopped vegetables to a saucepan, add the olive oil, mix well, place on the heat and fry over a medium heat for a few moments. Lower the heat, add the tomato and cook for an hour.
To prepare the pasta:
Pour the flour on a chopping board in the classic fountain shape, add the water a little at a time and start to knead to obtain compact non-sticky dough. To make the ciriole, work the dough into small pieces and roll them out with your hands to obtain thin 'little snakes' of dough.
Cook the pasta in plenty of salted water for 2-3 minutes maximum, drain and dress with the tomato sauce. Decorate with fresh basil. Serve piping hot.
(Liana Marabini)
---
---