THE RECIPE
Sbrisolona
Culture
30_10_2021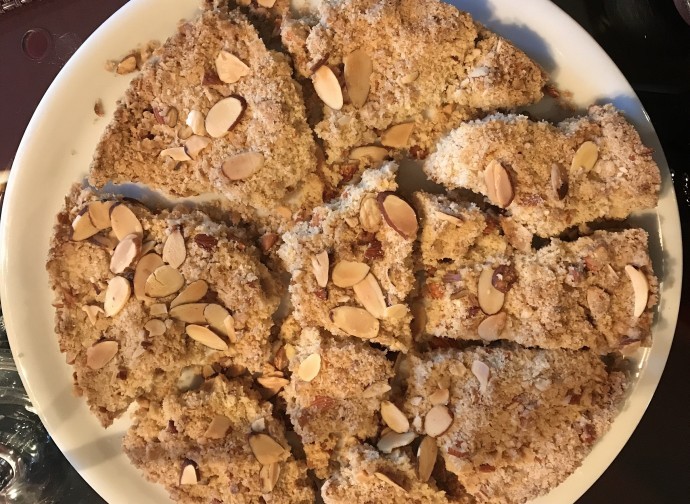 The recipe for 'Sbrisolona', originating between the 16th and 17th centuries, comes from the peasant tradition, as evidenced by the use of corn flour. The recipe has been modified over time with the addition of various ingredients: almonds, sugar, butter and so on. Today, Sbrisolona is a large, dry and very crumbly pastry, like a crumble.
Ingredients (serves 6-8)
100g flour
100g cornflour
100g caster sugar
100g chopped almonds and 20 whole almonds
100g butter
2 egg yolks
Zest of half a lemon
1 sachet vanilla sugar
Preparation
First peel 100 g of almonds and chop them unevenly, then grate the zest of half a lemon. In a container, mix the two flours, the sugar, the chopped almonds, the vanilla sugar and the lemon zest. In a smaller bowl, work the butter in small pieces with the egg yolks.
Then mix everything together and knead with your fingers until the mixture is crumbly. Finally, line a baking tray or tart mould with baking paper, and spread the dough over it, to a maximum thickness of 2cm, pressing down loosely. Add the whole unpeeled almonds on top.
Bake for 30-35 minutes at 180°C. Allow to cool and serve. You can keep it for 2/3 days in an airtight container.
Practical tip
Traditionally the Sbrisolona should be broken by hitting it with a fist in the middle. Never cut it with a knife, just break it up with your hands.
Serve with a dessert wine or coffee.
---
---