THE RECIPE
Kremówka Papieska
Culture
06_06_2021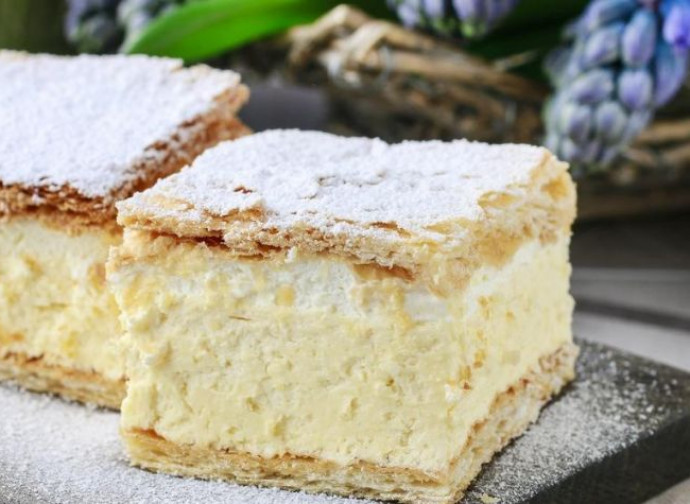 KREMÓWKA PAPIESKA
Ingredients
For the pastry
250g 00 flour
3 tablespoons cold water
200g margarine
3 egg yolks
For the cream
600ml milk (3 glasses)
150g sugar
The pulp of half a vanilla bean
3 egg yolks
1 tablespoon of flour
200ml fresh cream
Icing sugar for dusting
***
Prepare the pastry by sifting the flour and kneading it together with the margarine, forming a lump-free dough and kneading it well.
Add the egg yolks and the water to form a solid dough and refrigerate for about 3 hours.
After this time, break the dough into two halves and roll the dough into two sheets of equal shape and size (about 4-5 mm thick) and bake in a hot oven at 180°C until the two sheets are a golden colour (about 15 min.).
In the meantime prepare the cream: boil 2 glasses of milk in a saucepan together with the sugar and the vanilla pulp.
Beat the three egg yolks with a whisk and add the cold milk and the tablespoon of flour, taking care that no lumps form.
Pour the mixture into the boiling milk and cook until the cream thickens considerably.
When the cream has cooled, add the whipped cream and stir to create a fluffy cream.
Place the first layer of pastry on a plate, pour the cream on top and cover with the second layer of pastry.
Dust with plenty of icing sugar and let the cake rest in the fridge for a couple of hours.
When it is time to serve, cut the cake into slices with a knife.
---
---