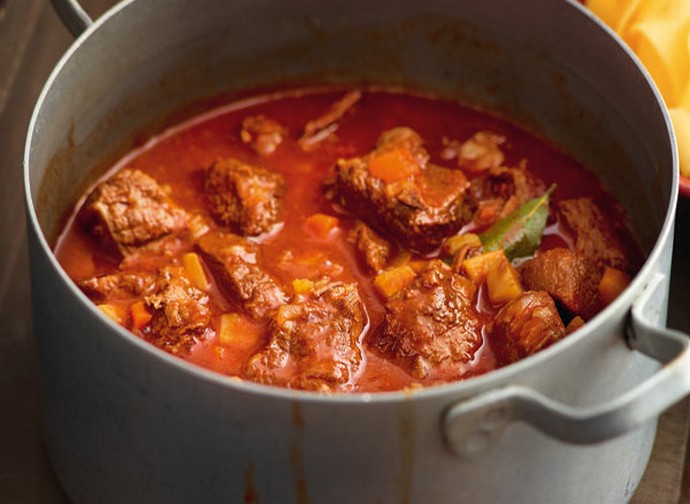 GOULASH
Goulash is a dish that has changed considerably over time. Initially, it was a soup in which pieces of meat and lard were boiled with carrots, onions, garlic, turnips, paprika and herbs: this is what the crusaders in this article ate.
After the discovery of the Americas and the introduction of new vegetables to Europe, the recipe was enriched with tomatoes, various chillies, and potatoes.
Ingredients (serves 4):
500g beef cut into chunks
1 ½ litres of beef stock
500g tomato puree (passata)
1 glass of red wine
4 cloves of garlic
2 large onions, diced
2 carrots, sliced
1 pepper, diced
1 teaspoon sweet paprika
1 dried hot chilli pepper, crumbled
Half a teaspoon cumin seeds
4 tablespoons olive oil
1 bay leaf
1 bunch of parsley (optional)
Salt and black pepper
Preparation
Brown the onion in hot oil in a deep saucepan. When the onion is softened, add the pieces of meat and fry for 10 minutes, stirring frequently. Pour in the red wine and let it evaporate.
Add the paprika and cumin seeds, then the tomato puree, bay leaf and garlic. Stir and add the hot stock, which should abundantly cover the mixture.
Cover the saucepan and cook over a medium heat for an hour and a half, checking and stirring occasionally. If necessary, add some hot water during cooking.
Finally, add the pepper, carrots, salt and pepper and cook for a further half an hour.
Serve hot, garnishing with chopped parsley. It can be served with pasta, mashed potatoes or polenta.