THE RECIPE
Fish and seafood stew
Culture
18_04_2021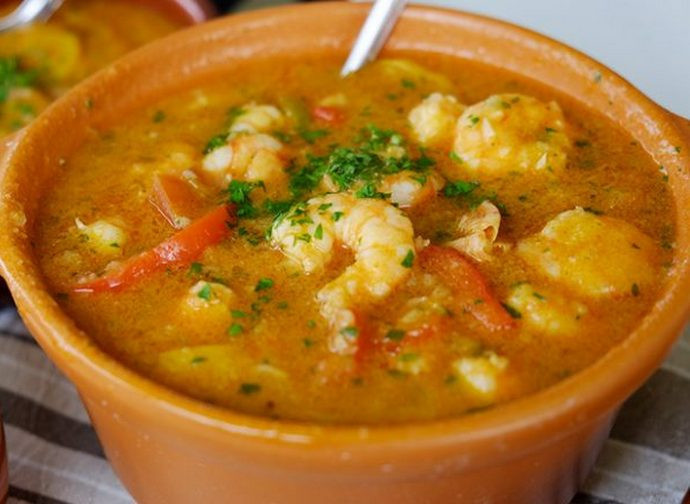 FISH AND SEAFOOD STEW
This is a dish of mixed fish and vegetables, typical of seaside towns. It is a very old dish: in the time of Saint Elizabeth of Portugal, it was prepared without potatoes and tomatoes, which arrived in Europe after the discovery of the Americas.
Here is the recipe as it is prepared today.
Ingredients (serves 6-8):
1.8kg of fish (pilchards, conger eel, dogfish, skate, catfish, bream, mackerel, monkfish, etc.)
150g shelled scallops
250g prawns
500g squid
300g ripe tomatoes
1kg onions cut into rings
400g tomato pulp
4 peppers (green and red) cut into strips
2 garlic heads, peeled and chopped
2 kg potatoes, sliced
1 bunch of chopped parsley for decoration
2 bay leaves
½ l olive oil
2 glasses of white wine
Paprika
Chilli pepper
Salt and black pepper
Preparation
In a large saucepan, arrange the onion rings, tomato, potatoes, garlic, fish pieces and peppers in alternating layers. Keep the scallops and prawns to one side.
Mix the tomato pulp, olive oil and white wine, season with salt, pepper, paprika, chilli and bay leaves and pour the liquid into the casserole, covering all the ingredients well. If necessary, add hot water or vegetable stock.
Simmer for 45 minutes.
Ten minutes before the end, add the scallops and prawns.
Sprinkle with fresh chopped parsley before serving.
Serve hot.
---
---