THE RECIPE
Easter salad with poached egg and balsamic vinegar
Culture
10_04_2021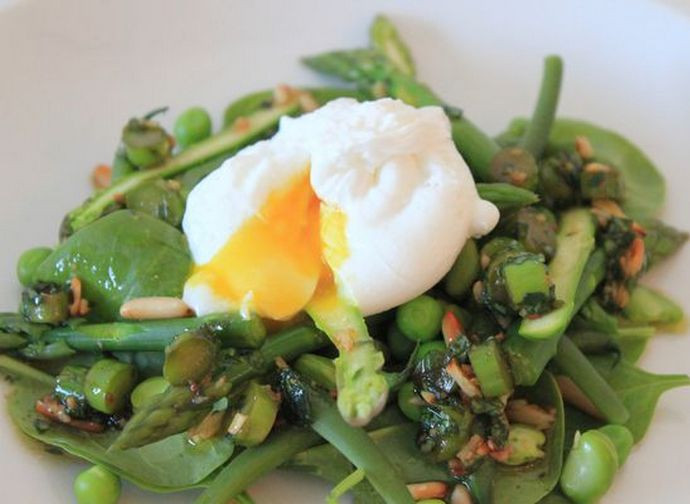 EASTER SALAD WITH POACHED EGG AND BALSAMIC VINEGAR
Ingredients (serves 2):
2 very fresh eggs
A handful of baby spinach
12 green asparagus
10 fresh broad beans
10 green beans
2 tablespoons fresh peas
A few basil leaves
1 tablespoon pine nuts
6 tablespoons olive oil
2 teaspoons of balsamic vinegar
1 glass of white vinegar
Salt
Toast the pine nuts and set them aside. Shell the broad beans and peel them, rinse and trim the asparagus and the green beans, and rinse the spinach leaves.
Cook the peas for 5 minutes in salted water and set aside. Cook 8 of the 12 green asparagus in salted water for 3 minutes. Cut all the tips the same length, while the tails should be sliced; set aside.
Cook the green beans in salted water for 8 minutes so that they are al dente, set aside.
Cut the 2 remaining raw green asparagus into very thin strips lengthways and set aside.
Prepare the dressing:
Chop the basil, add the olive oil, 2 teaspoons of balsamic vinegar, salt, the cooked asparagus rings and finally some chopped pine nuts.
Poach the eggs:
Break them into a bowl. Bring a pan of water to the boil, pour in the glass of white vinegar, wait for the water to simmer gently before carefully pouring in the eggs. Cook for 2 minutes. Remove the eggs and dry them on kitchen paper.
Arrange the two plates:
In the centre of each plate arrange the spinach leaves, raw asparagus, cooked asparagus tips, peas, green beans, broad beans. Top each plate with an egg and sprinkle with pine nuts. Finally, season with basil sauce and balsamic vinegar.
---
---