THE RECIPE
Beer-Braised Beef
Culture
14_11_2020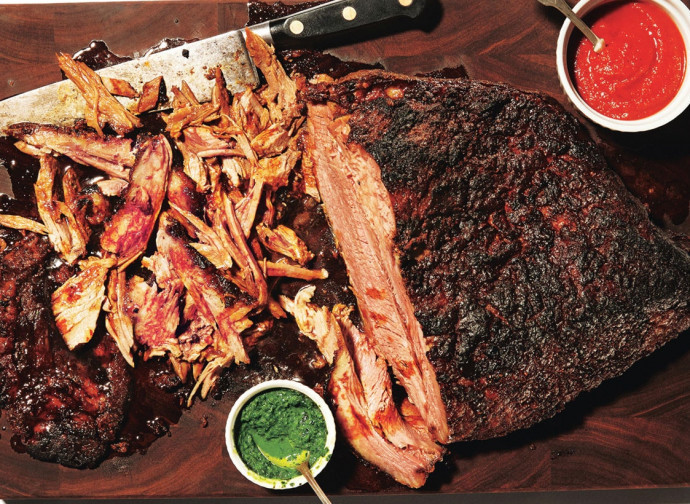 BEER-BRAISED BEEF
Serves 6/8:
2 kg beef (ideally, brisket)
4 cloves garlic
1 tablespoon brown sugar
1 tablespoon Dijon mustard
2 tablespoons olive oil
1 tablespoon freshly ground black pepper
1 teaspoon ground cumin
1 teaspoon paprika
1 teaspoon cayenne pepper
1 tablespoon coarse salt
2 onions, thinly sliced
1 can of beer
The joint of beef should be cooked whole.
Finely chop the garlic in a food processor. Add the brown sugar, mustard, oil, black pepper, cumin, paprika, cayenne pepper and salt and blend until smooth.

Rub the marinade all over the joint, then wrap it in cling film.
Place in the fridge for at least 24 hours.
The next day take the meat out of the fridge one hour before cooking and let it stand at room temperature.
Preheat the oven to 160°C.
Spread out the onions in a large baking tray and place the joint on top, with the fatty side facing upwards.
Add the beer; cover with aluminium foil for cooking.

Braise in the oven until the meat is very tender, 5-6 hours.
Place the joint of meat uncovered under the hot grill and cook until the top is golden brown and crunchy (about 10 minutes).
Leave the beef to cool slightly, then remove it from the pan and place on a cutting board.
Use a sharp knife to thinly slice or shred the beef.
With a skimmer remove the onions from the pan and mix with the meat slices.
Moisten with a little of the cooking liquid and add salt if necessary.
Serve hot with roast potatoes or a green salad.
Beef prepared in this way is excellent hot or cold, as a main dish, or as a sandwich filling.
(Liana Marabini)
---
---